Are you sick and tired of a dirty car? It looks like Byung Kim and his team are familiar with this problem. That's why they have created TRAPMATS – the world's first easy-to-clean dual car mats. Don't worry about getting in your car with shoes that are wet or stained. This product allows you keep your car floor neat and clean. Let's find out how this is possible!
Most floor mats are just a dirty piece of carpet that holds all of the dirt right on top of them, visible for all to see. TRAPMATS, however, have a unique design. This product has dual honeycomb layers that not only catch and keep all the dirt that falls onto it but will hide the debris from view until you clean the floor space mat off.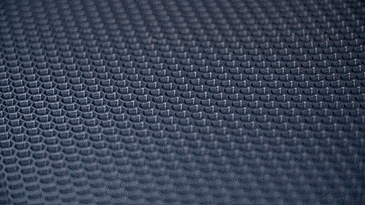 The honeycomb-shaped holes in the first layer allow the dirt to fall right through to the second layer. The two layers are connected and held together using Velcro so that the collected dirt cannot leak out. Even when the air is circulated through the floor mat, no dust or debris is expelled as the dirt is trapped underneath the first layer.
Furthermore, the TRAPMATS are made of Ethylene-Vinyl Acetate (EVA) This material is odor-resistant, waterproof and has anti-bacterial properties to help keep your floor mat clean. It means that you don't need to worry about any fungus or mold growing on your floor mats.
Last, but not least, TRAPMATS are really easy to wash and they dry out in few minutes. These mats are also really easy to install. The TRAPMATS are compatible with any car made after 1995. Thus, you can buy packages for just the front seats, or both the front and back seats of your car.
Currently, Byung Kim's team is crowdfunding the TRAPMATS on Kickstarter with an estimated delivery date of March 2017. An early bird is available for $39. Support them and keep your car clean in any situation.